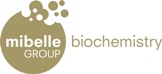 Mibelle AG Biochemistry
Bolimattstrasse 1

Buchs
5033
Switzerland
+41 62 836 17 31
COMPANY INFORMATION
At Mibelle Biochemistry, our mission is to design the most innovative actives for our customers.
Innovation is the most important factor as it enables them to deliver new claims, new efficacy tests, new applications, new biochemical findings, as well as new marketing and communication tools to effectively differentiate products.
Our scientists transform naturally derived plant compounds into truly functional bioactive cosmetic ingredients. Our R & D team makes use of state-of-the-art encapsulation technologies that will guarantee optimum bioavailability and thus ensure the maximum effectiveness of the active ingredients sourced.

All of our actives are supported by a biochemical concept, clinical studies – in vitro and in vivo –and considerable marketing documentation, which includes convincing selling tools, formulation guidelines and advantageous claim substantiation.

• 30 years of experience in high-end development of actives for the cosmetic industry
• Expert in plant biotechnology, liposomes and nano-emulsions
• In-house development and production site with Swiss quality standard
What's new
MelanoGray™ features melanin stimulating and antioxidant activity – thus it markedly reduces the quantity of gray hair in both men and women.
MossCellTec™ Aloe intensifies connexin-mediated cell-to-cell communication that optimally evens the moisture distribution in the skin and reduces the volume and depth of wrinkles.
SantEnergy™: delays aging of hair follicles and increases both hair growth and hair density.
PRODUCTS AND SERVICES