Boost for sustainability transparency in personal care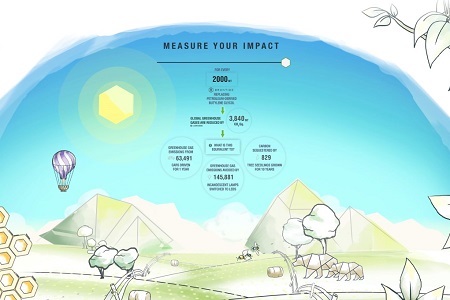 Genomatica has announced the launch of its sustainability impact calculator.
The interactive calculator makes it easier for personal care companies to substantiate sustainability claims and achieve greater transparency with Brontide natural butylene glycol — an eco-friendly alternative to petroleum-derived butylene glycol.
The impact calculator's dynamic estimator empowers personal care companies to predict environmental footprint savings when replacing petroleum-derived butylene glycol — an ingredient commonly used in personal care products — with Genomatica's plant-based alternative, Brontide natural butylene glycol. Personal care companies can instantly measure the environmental impact of using larger volumes of natural butylene glycol and delivering it to more consumers, in a single product or an entire product line, by simply entering the volume intended for use.
The sustainability impact calculator uses data from Genomatica's peer-reviewed Brontide life cycle assessment (LCA) ISO 14044. According to Genomatica's independent, comprehensive LCA, Brontide natural butylene glycol can slash greenhouse gas emissions by about 51% compared to conventional production. The U.S. EPA Greenhouse Gas Equivalencies Calculator is used to calculate this data further and provide users with three additional equivalencies, including greenhouse gas emissions from the number of cars driven for one year, emissions avoided by incandescent lamps switched to LEDs and carbon sequestered by tree seedlings grown for 10 years.
"The personal care market can take a major step toward sustainability by formulating their products with Genomatica's Brontide natural butylene glycol instead of petroleum-based alternatives," said Damien Perriman, Genomatica's senior vice president, Specialty Products. "Our new sustainability impact calculator is just one of the ways Genomatica is helping personal care companies to quantify their greenhouse gas savings and accelerate an industry-wide transition to more sustainable products."
Other News
Featured Supplier

We Ichimaru Pharcos a global company that contributes to the "health and beauty" of people all over the world by providing high-quality products through research/development and technology innovation in Japan.
After the establishment in 1959, ICHIMARU PHARCOS has become a global leader in Research and Development of natural active ingredients...