Solid conditioning bar launched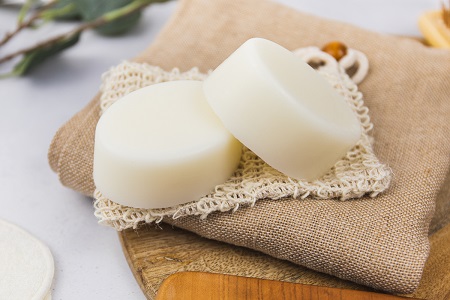 Stephenson has launched its first solid shampoo conditioning bar base, the latest addition to their melt and pour range. It is a product innovation designed to help consumers reduce the use of plastic containers and use less water.
The conditioning bar is a ready made solid conditioner base and is an easy to use melt and pour product. The formulation can be tailored using additives of the customer's own choice and the natural ingredients include behentrimonium chloride, a cationic surfactant which helps condition the hair, shea butter and coconut oil which provide hydration and hydrogenated ethylhexyl olivate, a natural emollient within the base.
In 2013, Stephenson became the first manufacturer in the world to launch a melt and pour soap base made using 100% RSPO certified sustainable palm and palm kernel oils. Named CRYSTAL SP SG, this melt and pour soap sat alongside Stephenson's other RSPO product bases.
Richard Musgrave, marketing manager at Stephenson said: "The growth of the solid bar market has been steadily increasing in recent years and is expected to continue as consumers look to limit their plastic use and conserve water in a bid to be as environmentally responsible as possible. Consumers really are calling the shots in terms of what ingredients they want to see in their cosmetic and personal care products and also how they are presented and what they are contained in.
"Our melt and pour range of personal care products has been constantly evolving for the past seven years in line with the explosion of eco demands and changing consumer trends. Sustainability is a key driver at Stephenson as this is a primary concern of the many global formulators we partner with. The development of our first-ever conditioning bar as part of this range is in direct response to these trends and presents a solid bar conditioner that is not only great for hair but the environment too."
Other News
Featured Supplier

With many years of experience in botany and phytochemistry, Crodarom's mission is to identify new actives in plants, thereby creating innovative concepts for beauty care. Thanks to our R&D experts, advanced technology, innovative marketing and win-win partnerships with farmers, we develop outstanding high-quality extracts that follow the...