Borage oil 'one to watch' in 2021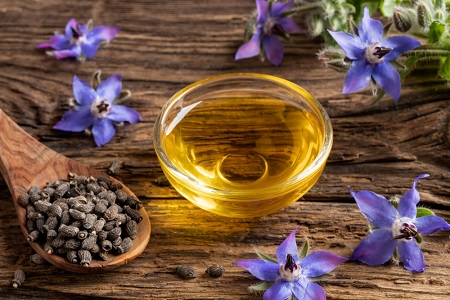 Kerfoot Group has shared insights into Borage Oil, also known as Starflower Oil. As the ingredient continues to gather momentum in new product formulations, the business has identified Borage Oil as 'one to watch' for 2021.
The oil has seen surging demand in skin and hair care applications, due to its powerful natural hydration. According to retail intelligence agency Grand View Research, the global Borage Oil market is projected to surpass a value of $54.9m by 2024, buoyed by a robust compound annual growth rate of 5.5%. Oil is harvested from the Borage plant, which has a short cycle of less than 4 months, making the plant an ideal rotation crop.
The ingredient is finding use as a food supplement thanks to its nutritional profile, but its most promising area for growth lies in personal care and cosmetic formulations. Borage Oil is known to restore moisture and smoothness to dry and damaged skin by reducing trans-epidermal water loss.
Its unique range of natural benefits sets it apart from many of its contemporary alternatives, and the Kerfoot Group has predicted that its growth is set to accelerate through 2021 as the personal care sector's 'best kept secret' finds a strong foothold in new formulations.
Dora Bert, supplier development manager at Kerfoot Group, commented: "Our unique birds eye view of the personal care sector helps us stay one step ahead of consumer trends. What we are seeing is a real upswing in demand for Borage Oil, and we expect this to accelerate through the coming year. Our role as a market leader means we always need to stay ahead of consumer demand. We are seeing Borage Oil making real inroads with the consumer, which should capture the attention of personal care brands of every size.
"We know that consumers today are putting a close focus on nutritional content. Borage Oil shines here, with generous gamma linoleic acid (GLA) content. The versatile oil can prove a powerful addition to personal care formulations and is beginning to gather real pace. It's a natural hydrator, but it's also a mild anti-inflammatory that's kind on sensitive skin. We expect the oil to continue its strong performance through 2021."
Other News
Featured Supplier

LipoTrue Inc.
317 George Street, Suite 320
New Brunswick, NJ 08901, USA
+1(732) 839-2761
 

ÆONOME™, A secret hidden 3 million years
Æonome™ is a bacterial ferment obtained from an ancient underwater cave located in Mallorca's
Island. A unique microbial community has remained preserved & protected in this...