Sustainability award for cosmetic esters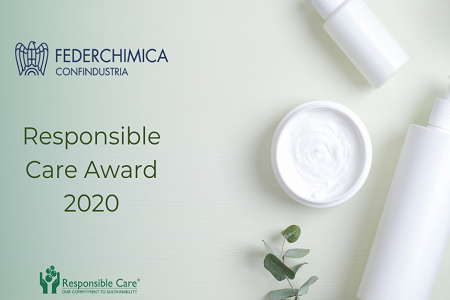 ROELMI HPC has been awarded in the category "Sustainable project" thanks to their EMotion Line at the ceremony for the Responsible Care Award 2020.
"Responsible Care" is a voluntary programme to promote the Sustainable Development of the global chemical iIndustry, according to values ​​of safety, health and the environment. The initiative was started in Canada in 1984 by the Canadian Chemical Producer Association (CCPA). In 1989 the Program was launched in Europe, by the CEFIC (European Chemical Industry Council).
The Responsible Care Program is currently adopted by over 10,000 chemical companies, in more than 60 countries around the world. The various national programmes, while influenced by local cultures and socio-economic contexts, have common fundamental characteristics, defined by the ICCA (International Council of Chemical Associations), which plays a role of promotion, assistance and connection for all the activities related to sustainable development inside the industries.
A spokesperson for ROELMI HPC, said: "We are very pleased to announce that the 2020 ceremony has seen ROELMI HPC awarded for the category "sustainable project" thanks to our EMotion Line composed by cosmetic esters coming from European renewable crops of local origin characterised by maximum respect for biodiversity, tested biodegradability and no competition with the agri-food industry."
Other News