The versatility of the orange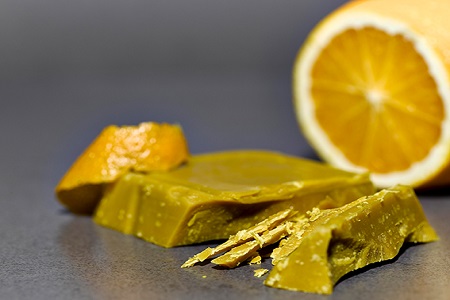 KahlWax has released a new natural fruit wax derived from the peel of oranges. The raw material is paired with berry wax, another natural fruit wax, to create a product that combines skin care with texture-enhancing and stabilising properties.
The resulting KahlWax 6698 Orange is a versatile cosmetic raw material with a distinctive citrus scent, which is suitable for hair and skin care products, where it provides smoothness, combability, and shine, and for colour cosmetics where it improves gloss and colour brilliance. Due to the current situation, the official market launch was postponed to September and is now taking place digitally.
The semi-solid orange peel wax surrounds the fruit, protecting it against environmental influences like high temperatures and insects. Berry wax is a soft, pale wax derived from berry fruit peels of the Rhus Verniciflua tree. Due to its unique structure, it is able to reinforce crystal structures, thus increasing the texture and hardness of KahlWax 6698 Orange to ease its use. Berry wax additionally improves sensorial attributes and works as a re-fatting agent.
The effect of KahlWax 6698 Orange on hair gloss was determined in a half-side comparison study using a rinse-off conditioner with 3% 6698 against placebo. After a 10-minute application time, the hair was washed and air-dried. The gloss was determined by means of a glossymeter at the hair roots and lengths. The test showed that KahlWax 6698 Orange was able to enhance the shine on the entire hair.
KahlWax 6698 Orange is of certified halal quality, vegan and meets the requirements of current natural cosmetic standards.
See more about Kahl GmbH & Co. KG
Other News