Innovation award for research on anti-acne ingredient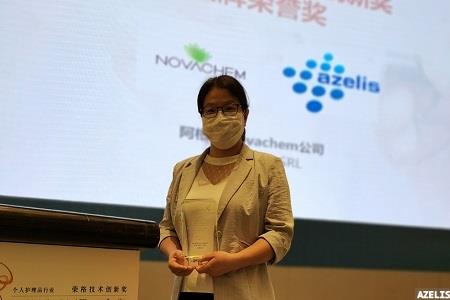 Azelis won the Ringier Technology Innovation Awards 2020 for Personal Care, for the sixth time in a row. Competing with 105 companies, the award was handed out for the advanced research and analysis Azelis did on Zinc Sebum by Novachem.
With social distancing becoming a new norm, there is more need for "me-time" and self-care as people would want to take care of themselves from their home's comfort to feel beautiful and to de-stress. This new lifestyle caused also major skin disruptions. On the one hand, stay-at-home leads to increased stress, environmental changes such as less exposure to the sun, and diet shifts, causing skin agitation. On the other hand, wearing a mask is also causing skin irritation and sensitivity, as well as acne.
Brands that offer solutions to preserve skin beauty and health with scientifically proven ingredients, with a safe and ecofriendly profile, will have customers' attention. This is why Azelis China sales and laboratory teams selected Zinc Sebum for the Ringier Technology Innovation Awards 2020. Zinc Sebum is a naturally-derived ingredient composed of zinc peptide and four plant extracts that help treat acne, oily skin and redness. The ingredient composition helps target the causes of acne, acting pro-actively on the issue. It also imparts bactericidal and germicidal power in hands, feet and armpits. Zinc Sebum's clean multifunctional profile makes it the ideal ally for innovative skin care formulation, complying with all consumers' criteria.
Vicky Lee, Azelis China Deputy Head of Personal Care, said: "This award is a recognition of our efforts to bring the highest-quality ingredients from our principals and suppliers to the Chinese market, coupled with our own high focus on innovation and formulation expertise. Our partnership with Novachem is also a testimony of Azelis' strong interest in promoting clean and ecofriendly solutions. Our application laboratory is continuously screening our portfolio to ensure that we can effectively and innovatively meet the market demands and thus create new business opportunities. This all came together in the work we did with Zinc Sebum."
Damaris Reynoso, Novachem Managing Director, said: "At Novachem, we are focused on the research and development of naturally-derived innovative active ingredients. We chose Azelis to distribute our product range in China as they offer advanced laboratory and technical support to customers, which is key to promote our portfolio. With great customer intimacy, excellent market coverage, as well as high professional standards, Novachem relies now on Azelis as a new partner to develop our sales on the Chinese market. They also, just like us, hold at the heart sustainability as testifies their second EcoVadis Gold rating. We look forward to many more success stories!"
Other News