New fragrance based on Damascene rose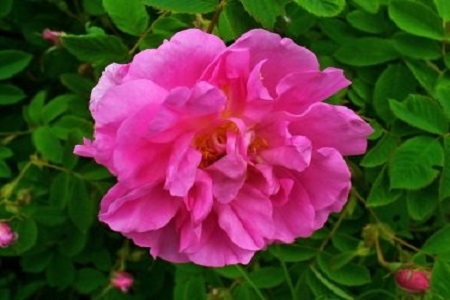 CPL Aromas has launched a new fragrance into its unique Aromafusion technology collection: Damask Fusion. The material is available exclusively to CPL Aromas' clients.
Inspired by the elegant and prized Damascene Rose (pictured), Damask Fusion is a cross between a rose oil and a rose absolute. There are four key benefits: the fact that the technology makes this a unique rose material rendering copies impossible so that any original fragrance created by CPL Aromas' perfumers using this material cannot be replicated; the beauty of the fragrance; the consistence of its quality; and of course, its cost effectiveness; rose oil is probably the most expensive fragrance material in the perfumer's palette.
Christian Provenzano, CPL Aromas' global perfumery director, who played a major role in creating the new material, said: "Damask Fusion, containing the beautiful Turkish Rose concrete, is a delicate combination of an essential oil and an absolute combining the fresh, fruity top of the essential oil and the warmth, opulent body of the absolute. This is a multi-component mixture based on natural and synthetic ingredients, mainly from the Rose family. It is a perfect combination, very effective in all kind of floral bouquets but also in Oriental Arabic fragrances when combined with Oud, Saffron and Amber".
Asked about his inspiration when creating Damask, he said: "I was inspired by the delicate profile of the fresh smell of roses when entering a florist: rich, elegant and sophisticated. I will be using this in the same way I would use any roses in any of my formulations. Its cost effectiveness will mean that perfumers can use it at a much higher level in their formulas".
Other News
Featured Supplier


Barentz Personal Care offers a comprehensive portfolio of ingredients for skin- and hair-care applications, colors and fragrances. Our broad, but carefully selected ranged of ingredients comprises specialty ingredients such as high-performance actives, multifunctional ingredients and texture enhancers, to meet some of the most challenging...