Personal care appliances market to reach US$30 Bn by 2025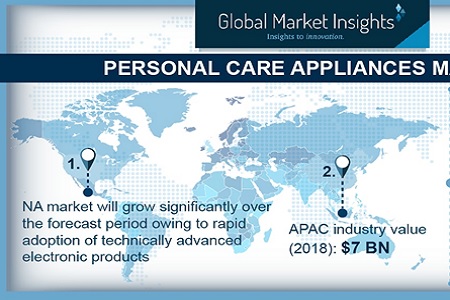 According to a recent study from market research firm, Global Market Insights, the global personal care appliances market, in the years to come, will be characterised by strategic collaborations, mergers and acquisitions that would improve the profitability of the companies and expand their customer base.
The rapid transformation in consumer buying habits and surge in disposable income will drive personal care appliances market size in the forecast years. In recent times,a rise in online shopping and social media trends have changed the way consumers discover and buy personal care products. Rise in the usage of the Internet and massive growth rate of smartphones have led to an increase in the number of distribution channels for manufacturers, which in turn, is augmenting personal care appliances industry outlook.
The major beauty brands nowadays are massively investing in high-tech overhauls – right from product development to innovative marketing and merchandising for providing improved customer experience. Leading manufacturers are leveraging the expertise of technologies such as augmented reality and the cloud which has led to the evolution of technology-backed cosmetics brands.
In recent years, personal care and pharmaceutical companies have also majorly focused on bringing forward pivotal tech-based innovations in male personal care products such as electronic trimmers, shavers, and many other electric male grooming products. In essence, manufacturers are targeting men as a pivotal consumer base which has been helping personal care appliances market forge new growth avenues.
In terms of geographical landscape, in 2018, Asia Pacific personal care electrical appliances market had registered around USD 7 billion and is registering substantial growth owing to the increasing popularity of efficient grooming and hair care products. Emerging economies like India and China are becoming the major revenue grounds for international cosmetic companies due to implementation of powerful technologies like AI and chatbots that not only transform the process of consumer engagement but also aid in analyzing the consumers' skin type and their preferences. These innovative developments will considerably contribute to augmenting personal care appliances market trends and are expected to favor regional growth.
The major players are: Colgate Palmolive Company, Conair Corporation, Dyson, Havells India Ltd., Helen of Troy Limited, HTC Hair Clipper (Yongkang Xinji Hairdressing Appliance Factory), Koninklijke Philips N.V., Lion Corp, Nova, Panasonic Corporation, Procter & Gamble Company, Spectrum Brands, TESCOM, Vega, Wahl Clipper Corporation
Source: https://www.gminsights.com/industry-analysis/personal-care-appliances-market
Other News