New alternative for polyester glitter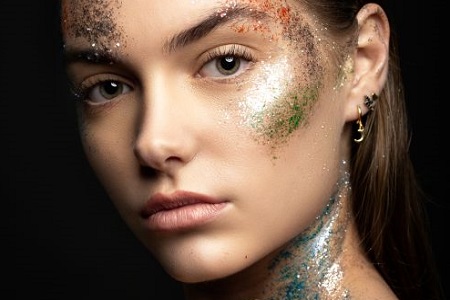 The newproduct range, Geoflake, has been developed by the Dutch based effect pigment supplier, Geotech, as an environmental-friendly alternative for polyester glitter. With upcoming regulation on its way for microplastics, the cosmetic industry is looking for sustainable alternatives. The basic structure of Geoflake is a coarse platelet of coated synthetic mica. The new range contains synthetic mica flakes coated with titanium dioxide, iron oxide and D&C colourants.
The Geoflake portfolio contains 15 products. Silver, White, Red Gold, Royal Blue, Green, Lavender, Salmon and Rainbow are the eight colours which are available in two different particle sizes. The available sizes are XL, with an average of 350 micron and XXL, with an average of 750 micron. The narrow particle size distribution achieved by an innovative production process are what makes Geoflake products unique. It creates an optical effect which is similar to precision cut polyester glitter.
The Geoflake product line is Geotech's answer to the strong market-driven demand to replace traditional polyester glitter. The new range includes interesting alternatives for the mainly used polyester glitter shades silver, gold and iridescent. Geoflake®glittering mica flakes are non toxic and comply with the main regulations for cosmetics. The colourant coated flakes may have a few restrictions in certain areas due to the colourants used. The titanium dioxide and iron oxide coated Geoflake products are UV, water- and solvent resistant.
Other News
Featured Supplier

Nature's gifts are plentiful. Benefiting from its bounty means respecting & protecting it.
Laboratoires Expanscience, a B Corp company, has been valuing the vegetal world for 40 years by developing eco-socio-designed & 100% from natural origin cosmetic ingredients.

We strive to highlight the noblest qualities of each plant while...