Organic tigernut oil introduced to portfolio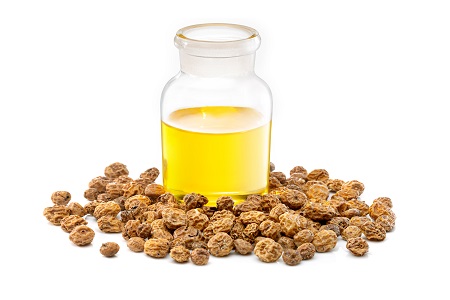 Praan Naturals has introduced Organic Tigernut Oil (Cyperus Esculentus Lativum (Tigernut) Root Oil) to its range of 500 certified organic and conventional natural ingredients for personal care product development.
"Tigernut Oil offers a significant level of alpha-tocopherol and makes a fantastic addition to formulations intended to support mature or sensitive skin," said Anáil Mitra, chief executive officer of Praan Naturals.
Cyperus esculentis is also widely known by its more common names of Yellow Nutsedge, Nut Grass, Chufa Sedge and Water Grass. A perennial grass that can be found in many regions of the world, it is also widely cultivated. Yellow Nutsedge is a grassy, flowering plant that belongs to the Cyperaceae (Sedge) family. The plant produces small, round tubers that resemble nuts and have a unique striped appearance on their exterior. As such, these fascinating tubers are commonly referred to as Tigernuts.
Praan Naturals Organic Tigernut Oil is an emollient and highly penetrating oil with a desirable texture. It is abundant in alpha-tocopherol, and it helps to moisturise, protect and support radiant skin and hair. It is well suited for use in a wide array of personal care applications and is especially beneficial for dry, flaky and itchy skin conditions. It helps support normal skin elasticity, and it minimises the appearance of fine lines and wrinkles. Within hair care applications, it helps to condition and protect the hair and scalp. Our Organic Tigernut Oil possesses minimal aroma and is an excellent choice for inclusion in unscented moisturisers and other fragrance-free formulations.
Other News
Featured Supplier

who dreams of a better
beauty?
_____
we do.
Health and wellness. Natural and organic products. Simplification with multi-functional benefits. These are a few growing trends changing the personal care market.  Ashland's solvers are passionate about creating more alluring and transformational textures that incorporate...