Top award for sustainability leadership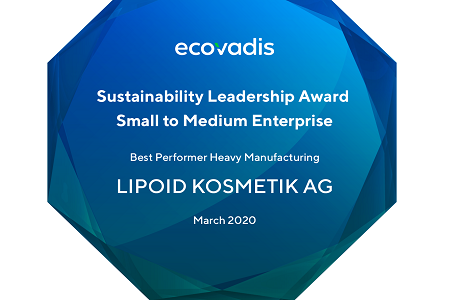 Lipoid Kosmetik has been acknowledged with the 'Sustainability Leadership Award Small to Medium Enterprise 2020' in the category "Best Performer Heavy Manufacturing" by EcoVadis. During EcoVadis' annual Sustain Conference in March 2020, EcoVadis honoured outstanding performers for their actions in sustainable procurement and Corporate Social Responsibility (CSR) across all industries.
EcoVadis is the world's leading sustainability rating agency and ranks the CSR performance of 65'000 companies in 160 countries in different industries on a yearly basis. Lipoid Kosmetik have already received Gold Status for their CSR activities four times in a row since 2015 and were ranked among the top 1% of suppliers assessed by EcoVadis in all industries.
The company's top score in 2019 was crowned by winning an EcoVadis Sustainability Leadership Award 2020 as one of a few companies. Outstanding small and medium enterprise winners of the Sustainability Leadership Award were selected based on their EcoVadis performance score of the former year. The EcoVadis methodology covers 200 CSR categories, and evaluates how well a company has integrated the principles of CSR into their business and management system. To emphasise the importance of this acknowledgment, award winners in 2020 in the field of sustainable procurement excellence include Groupe Peugeot, Henkel, the Estée Lauder Companies and L'Oréal.
A spokesperson from Lipoid Kosmetik said of the award: "Sustainable and responsible behaviour, with respect to environmental, social and economic actions, is a fundamental part of Lipoid Kosmetik's business philosophy. This EcoVadis Sustainability Leadership Award is a major recognition of Lipoid Kosmetik's achievements in the field of sustainability and CSR; and it demonstrates that we are not only talking about sustainability, but we actually live it. We make beauty natural, ethical, and sustainable."
See more about Lipoid Kosmetik AG
Other News