'Best ever' in-cosmetics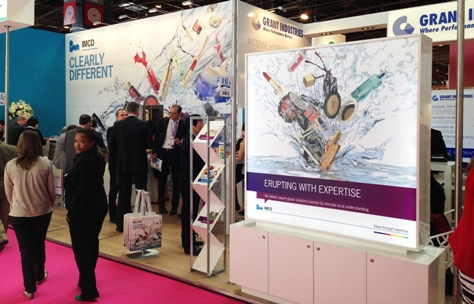 The IMCD Personal Care Team this year has truly left the IMCD mark at the show with the 'Clearly Different' appearance receiving many compliments from both visitors and exhibitors.
IMCD's 'Clearly different' image and concept have been built around the theme of the show: H2O Trail, another exciting topic to stimulate innovation in the personal care market. Visitors have been invited to follow the trail around the exhibition hall, showing a unique exhibition walkthrough to explore water-related innovation in personal care: find out about new hydration strategies, source new water derived active principles, and optimise the role of water in the formulas.
IMCD's personal care team participated to the H2O Trail and was proud to showcase technical expertise to all visitors through the Formulation Kit named 'In Praise of Water' based on eight formulas all developed around the concept of water. The kit consisted of a toiletry bag with a formulation leaflet and relevant samples. The whole team attended the Beauty Bar presenting the 'In Praise of water' project to visitors giving a strong image of a well-structured and technical team offering support, ideas and solutions. The entire concept proved to be an excellent communication and sales tool for the future as well.
IMCD's co-exhibitors, Grant and Nikko, expressed their full satisfaction for the perfect IMCD organisation of the whole show and the customers meetings carried out together with IMCD team. This shared success witnesses the strong relationship of Grant and Nikko with IMCD.
A great variety of customers came to visit IMCD booth during these three intensive days and the IMCD team showed full commitment in productive business meetings.
During the show colleagues agreed that this in-cosmetics was the best ever for IMCD, a testament to real teamwork.
Other News
Featured Supplier

ProductVision software is the global choice to solve the problems of managing formulation and new product development allowing you to keep ahead of the game.
ProductVision is a modular and fully integrated system that automates and streamlines your product development process, and ensures that your products meet both the technical and...