Mild soapnut ingredient sparks interest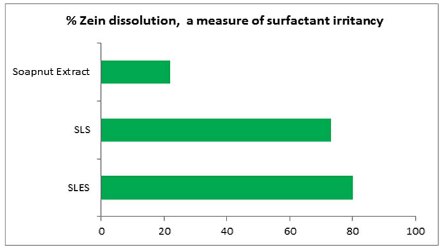 in-cosmetics is an important event in Vivimed's trade show calendar and this year the natural products on the range, such as Nisarg Soapnut, continued to attract attention from visitors.
The move towards natural ingredients is growing, with nature-derived surfactants becoming increasingly more desirable by both the formulator and the end user. Sustainability, increased media coverage of the potential health side effects of some ingredients and the demand for manufacturers to lower their environmental footprint, have all contributed to the trend.
Soapnuts are a fully renewable and sustainable resource, and have been used for centuries as a laundry detergent or soap for personal hygiene. Very simply, soapnuts are the dried shells from the fruit of the soapberry tree. The trees flourish in poor soil conditions and reduce unwanted erosion. The Sapindus mukorossi variety produces the most consistent quality of soapnuts with high saponin content, and grows primarily in northern India and Nepal. Cultivation provides a much needed income for local farmers and families, who harvest the prized fruit after it falls from the tree. The seed is removed from the shell, and the shells are dried in the sun.
Aqueous extraction is commonly used to obtain soapnut extract from the shells, which are rich in the saponins. However, this type of extraction results in a dark brown powder which can significantly affect the colour of finished formulations. Vivimed has developed a unique process to remove the highly coloured species, without reducing the level of water soluble saponins. The resulting powder, Nisarg Soapnut, has a much lower residual colour than aqueous extracted material, whilst still maintains the excellent foaming properties for which soapnut is renowned.
The mildness of Nisarg Soapnut extract was evaluated alongside the synthetic surfactants of SLS and SLES by measuring dissolution of corn protein Zein. The increasing solubility of Zein can be correlated to skin irritancy and Vivimed's results have demonstrated that Nisarg Soapnut is four times milder than SLS.
In addition to mildness, studies show that Vivimed's Nisarg Soapnut is comparable to commonly used synthetic surfactants in terms of foaming properties and detergency. With Nisarg Soapnut formulators now have a solution to the challenge of balancing aesthetics and performance characteristics of synthetic ingredients, by using natural alternatives.
Other News
Featured Supplier


Founded in 1986, by Mr. Wilfried Courage and Prof. h.c. Gabriel Khazaka, Courage + Khazaka electronic GmbH introduced the first scientific measurement tools to objectively quantify parameters on the skin. Until today we have always been the world market leader in this field. Nobody else offers such a complete range of measurement...