Sustainable technology for natural efficacy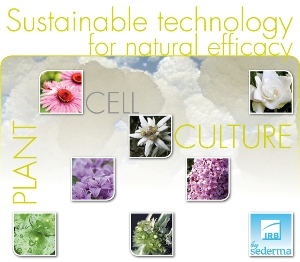 As precious sources of biologically active substances, plants have been widely cultivated both in open field and greenhouses with large amounts of natural resources and solvents for their extraction and purification.
However, water is a source of life and land is habitat for humans and animals, providing purified green spaces and soil for food cultivation. With growing global concern about the scarcity of these natural resources, it is fundamental to rationalise their use in a way that ensures their continued availability to sustain life for the future.
Using advanced biotechnologies, IRB has optimised an industrial cell culture method, called HTN (High Tech Nature) to produce plant active ingredients in safety and eco-sustainability conditions.
It may be a leaf, a flower or a seed. Only a small amount of plant tissue is required to find specific active substances. This small amount, however, requires in-depth scientific and technological knowledge to isolate and produce at highly scale molecules of interest.
This process shortens the distance to the ideal profile of the active plant ingredient, guaranteeing excellent quality standards, exceeding the limit of the traditional active ingredients:
•
Free from any type of pollutant, since plant stem cells are grown in a sterile and protected environment, without pesticides, heavy, metals and aflatoxines
•
Non GMO, as the DNA of plant cells remains intact
•
With guaranteed high titre, thanks to ongoing selection of cells that produce more of the active ingredient
•
Unlimited availability, using a biotech process that fully respects the environment and biodiversity
•
Totally eco-sustainable
Since the acquisition of IRB by Croda in July 2012, IRB's exclusive know-how is combined with Sederma's expertise in efficacy testing and proven ingredient functionality to offer a wide range of plant stem cell ingredients with guaranteed efficacy, reproducibility and measured sustainability:
Click on product name to request sample and/or literature.
•
Titrated in phenylpropanoids expressed as verbascoside > 0.2%
•
Titrated in phenylpropanoids expressed as leontopodic acid > 0.1%
Reduction of acne signs and sebum control:
SEBULESS™
(powder)
•
Titrated at 10% in phenylpropanoids expressed as verbascoside.
Other News
Featured Supplier

We are a trusted supplier of natural active ingredients for skin and hair care across the world. We provide a complete range of natural actives and extracts to fit the needs of your formulations and meet your product requirements. Our expertise in innovative products is parallel to our respect for the environment and the commitment with the...