In praise of water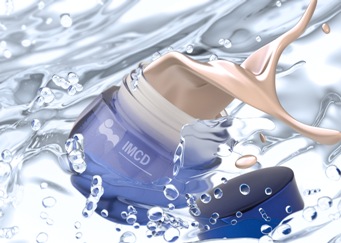 This year IMCD's in-cosmetics appearance will be clearly different!
IMCD will pay homage to nature's most vital ingredient by creating and showcasing a series of unique formulations that cover applications in skin care, sun care, colour cosmetics and hair care. Inspired by the unrivalled health-giving properties of H20, IMCD's expert formulations will harness the natural benefits of water, with examples including ultimate moisturisation, increased TEWL control, high thermo protection and multiple textural sensations. Amongst the many wonders of water, by visiting IMCD at booth J81, you can experience the fast break effect and fresh purity of our water-based formulations.
The company invites visitors to follow the H2O trail around the exhibition hall, showing a unique exhibition walkthrough to explore water-related innovation in personal care, come to visit us and discover how to:
•    Find out about new hydration strategies
•    Source new water derived active principles
•    Optimise the role of water in your formulas
Don't miss IMCD's showcase of innovative raw materials and formulations at stand J81.
Other News