Purified water discussed at Making Cosmetics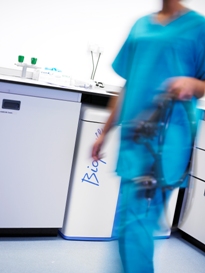 Making Cosmetics is becoming a key event in ELGA Process Water's exhibition calendar and this year visitors were given a valuable insight into the importance of purified water in cosmetic manufacture.
Mike Gaunt, technology manager at Veolia Water Solutions & Technologies, ELGA's parent company, presented the seminar on the importance of water quality. This covered quality requirements , what is in the water supply, water treatment processes and water reuse and recycling.
As water is used in the formulation of virtually every type of cosmetic and personal care product, the session proved incredibly popular for the delegates.
An overview was given on good manufacturing process (GMP) and international Pharmacopeia standards, where our water supply comes from, what contaminants are likely to be present and how we extract it for industrial use. A rationale of design practices for the different types and stages of a water treatment process gave an insight into the technologies available and in what scenarios they are best applied. Lastly an overview of water reuse and recycle technologies highlighted how ELGA Process Water's sustainable products can benefit customers.
Many followed the seminar by visiting the ELGA Process Water Exhibition stand to learn more on the topic and the range of products available, from reverse osmosis and deionisation to larger systems where higher levels of purity are required. There was also an opportunity to see the PURELAB flex range of water purification systems which dispense laboratory grade water (type I to type III) accurately and flexibly with an easy to use, innovative and ergonomic design and our SDI (Service deionisation) cylinders on the stand.
To find out more about ELGA Process Water's range of water treatment systems suitable for cosmetic manufacturing visit ELGA's website.
http://www.elgaprocesswater.co.uk/en/markets/Industrial_Solutions/pharmaceutical/

Other News