Biosil Technologies, Inc.
6A Pearl Court

Allendale
New Jersey
NJ 0740
USA
+1 201-825-8800
Is this your company? Let visitors to Personal Care Magazine know about your business. Contact Chris Vincent today to talk about extending your company entry in this directory.
Featured Supplier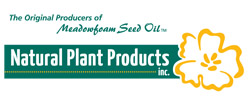 Natural Plant Products, Inc. has produced botanical oils/extracts for the personal care industry for over 30 years. Grown in the USA on cooperative member farms their natural products, Meadowfoam Seed Oil, Daikon Seed Extract, and Meadowfoam CP, have unique chemistries.  These novel triglycerides offer long-term oxidative stability, providing...