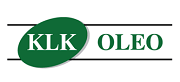 KLK OLEO
Level 8, Menara Klk, No. 1, Jalan Pju7/6
Mutiara Damansara,
Selangor

Petaling Jaya
Malaysia
+603 7727 1301/07
COMPANY INFORMATION
KLK OLEO is a global oleochemical producer, offering an array of high quality, innovative and sustainable products and solutions. We are the manufacturing division of our parent company, Kuala Lumpur Kepong Berhad, a leading international plantations group listed on the Main Market of Bursa Malaysia Securities Berhad, with a market capitalisation of approximately RM24.9 (USD6) billion, as of September 2019.
KLK OLEO's production portfolio ranges from basic oleochemical products, such as fatty acids, glycerine, fatty alcohols and fatty esters, all the way down the spectrum to specialties, such as sulphonated methyl esters, surfactants and phytonutrients. Our products are used in diverse end-use applications, including home & personal care, pharmaceuticals, food & nutrition, flavours & fragrances, lubricants and industrial chemicals.
At KLK OLEO, we are committed as a trusted global partner and reliable supplier in the oleochemical industry to enrich everyday life in a sustainable manner. Our business strength lies on:
Integrated oleochemical complexes, with 15 manufacturing facilities which are strategically located in Malaysia, Indonesia, China, Germany, Switzerland, Belgium and The Netherlands;
Sustainability is integral to our business. Being a member of the RSPO, we are committed to delivering high quality & safe products to our customers, and ensuring high traceability throughout our supply chain. We experience in multisite RSPO Supply Chain Certification for delivering Traceable, Segregated and Mass Balance certified oleo-based products;
Our range of KLK OLEO products have proudly stretched over 123 countries around the world, equivalent to 63% of the world's nations and;
Backed by a strong workforce of over 3,000 people worldwide.
VIDEO ABOUT KLK OLEO
KLK OLEO IN BEAUTY AND PERSONAL CARE (Send Enquiry)
Find inspiration and practical solutions for meeting consumer needs with our selection of ingredients
Anti-ageing / Skin Brightening Agent
Tocotrienols (Super Vitamin E)
Cleanser
Soap Bases/Noodles
Syndet Bases
Combo Soap
Sodium Lauryl Sulphate (SLS)
Sodium Laureth Sulphate (SLES)
Emollient
Caprylic/Capric Triglyceride (MCT Oil)
Cetyl Palmitate
Decyl Oleate
Ethylhexyl Palmitate
Ethylhexyl Cocoate
Isopropyl Myristate
Isopropyl Palmitate
Isopropyl Isostearate
Myristyl Myristate
Myristyl Stearate
Propylene Glycol Dicaprylate/Dicaprate
Emulsifier / Solubiliser
Polysorbates
Sorbitan Laurate
Sorbitan Oleate
Sorbitan Isostearate
Fatty Acids Soap
Lauric Acid
Myristic Acid
Oleic Acid
Palmitic Acid
Foam Booster / Thickener
Palm Kernelamide/Cocamide DEA
Palm Kernelamide/Cocamide MEA
Palm Kernelamide/Cocamide Methyl MEA
Humectant
Opacifier / Viscosity Modifier
Stearic Acid
Lauryl Alcohol
Myristyl Alcohol
Cetyl Alcohol
Cetearyl Alcohol
Stearyl Alcohol
Pearlescent
Glycol Stearate
Glycol Distearate
Pigment Dispersant
Glyceryl Isostearate
Isopropyl Isostearate
PEG-40 Sorbitan Perisostearate
Pentaerythrityl Tetraisostearate
Triisostearin
Trimethylopropane Triisostearate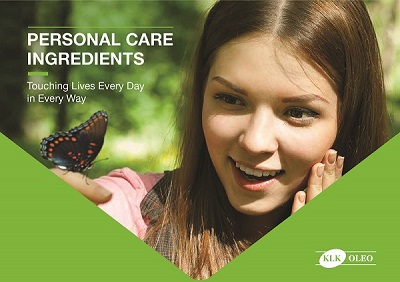 DAVOSLIFE E3 TOCOTRIENOLS – Bioactive SUPER VITAMIN E FOR BENEFITS BEYOND ANTIOXIDATION
DavosLife E3 Tocotrienols is a natural Vitamin E comprising the full spectrum of Tocotrienols and alpha-Tocopherol. It is a potent bioactive for use in topical applications and oral beauty supplements.
DavosLife E3 range of Tocotrienols are versatile, multifunctional bioactive ingredients:
They provide potent antioxidant protection from oxidative stress.
They reduce inflammation in the skin.
They have unique skin brightening properties, which alpha-Tocopherol does not.
They upregulate COLI and COLIII genes to stimulate collagen production.
This multifunctional efficacy enables formulators to use fewer ingredients and allows multiple applications:
Anti-ageing
Anti-pollution
Blue Light Protection
Suncare
Skin Brightening / Lightening
DavosLife E3 Tocotrienols are approved by ECOCERT Greenlife in accordance with COSMOS Standards and complies with all major international regulatory standards on Persistent Organic Pollutants and other contaminants in health supplements. Assessments conducted by the Cosmetic Ingredient Review (CIR) Expert Panel concluded that Tocotrienols are safe to use in cosmetics.
More information on skin and health benefits of DavosLife E3 Tocotrienols, visit www.klkoleo.com/DavosLife or contact our Sales Professional at [email protected]
Formulated with high bioabsorption, DavosLife E3 Complete Tocotrienols softgels are available for online purchase at www.klkoleo.com/davoslife/estore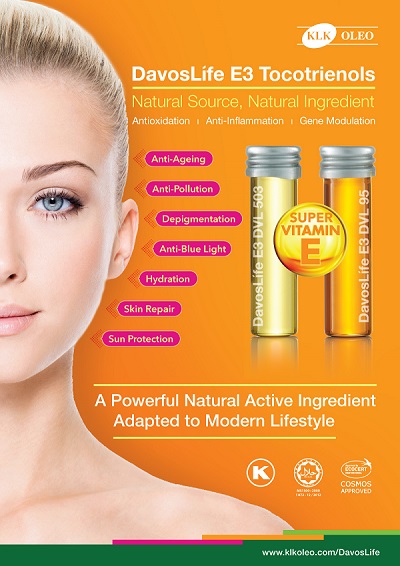 For enquiry: https://www.klkoleo.com/product-enquiry
PRODUCTS AND SERVICES
Featured Supplier

Present in the cosmetics, pharmacy, nutrition, biotechnology and microbiological diagnosis sectors, the Solabia Group, with its six production units, has complementary expertise that enables it to offer an extensive range of active principles and ingredients used throughout the world by the cosmetics, pharmaceutical and food industries.
Our...