Beyond the Adjectives of Claims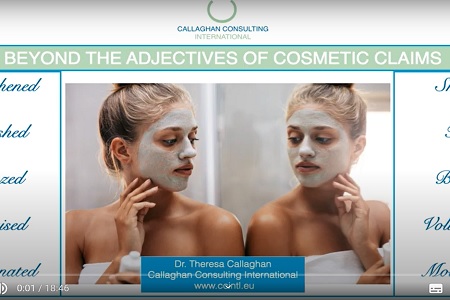 Coinciding with the first anniversary of the publication of the book "Help! I'm Covered in Adjectives:Cosmetic Claims & The Consumer", Callaghan Consulting International brings 'Beyond The Adjectives of Cosmetic Claims' to YouTube.
Launched early September a series of video and slide presentations walks the viewer through the processes and minefield of creating compliant yet interesting and believable cosmetic claims.
Theresa Callaghan said: "The series compliments the book it does not replace it or vice versa".
Each episode is uploaded on a regular basis explaining the importance of claims compliance and uses many examples, and helps iron out myth versus reality, especially as regards some of the trendy claims seen on the market today.
With a far greater push from industry scientists and consumers alike, it is time for the industry to face up to the responsibility of how it communicates to the consumer and help educate them as well as themselves.
A CCI spokesperson indicated that while the information provided is free of charge, purchasing her book (available from Amazon books), supports the effort put into them by Theresa Callaghan.
The Introductory episode was launched September 2, with the second and third episodes being available from 4 September 2020. https://www.youtube.com/channel/UCqa17fimQlUoMAlB-xlju2g
Other News