Infection control specialist at Making Cosmetics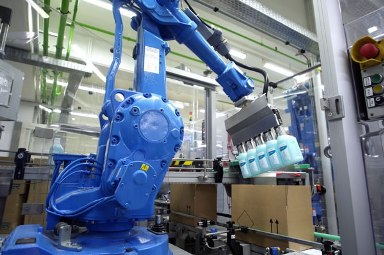 schülke has been a leading force in infection control for over 124 years, and the company philosophy is centred on one concept: hygiene.
schülke is a chemical and pharmaceutical GMP-manufacturer whose products and services protect people and materials against infections and contamination. Specialists in the disinfection of production areas in cosmetics and other hygienically sensitive environments the company will be showcasing its specialist perform® disinfectant and arcana® cleaner range throughout the course of the Making Cosmetics event.
Each product from the schülke range has excellent material compatibility, and has been developed to suit a broad range of microorganisms and manual disinfection & cleaning methods. The mixture of products and services provide enhanced cleaning and disinfection performance to meet the current Good Manufacturing Practice requirements. To realise its philosophy schülke's competences embrace GMP, ISO and EMAS certifications and awards.
Cosmetics are part of our everyday life. We apply them several times daily and in many cases to our entire body. Therefore cosmetics contaminated with microorganisms can affect consumer's health. Manufacturers of cosmetic products have to follow Good Manufacturing Procedures (GMP) by 2013 at the latest, when a new cosmetic regulation will be implemented. For this purpose adopted regulations, EU directive 76/768/EWG, national equivalents and guidelines to fulfil cosmetic GMP requirements such as the DIN EN ISO 22716 or recommendations from cosmetic organisations should not be seen as unnecessary. In fact they offer a big opportunity to improve the quality of your products and guarantee the highest level of operational standards.
schülke supports its customers with a comprehensive concept of Microbiological Quality Management (MQM) including lab services, application advice, plant audits and training programs for employees. It is not only a matter of eliminating the risk of infections for people, but also of protecting products and equipment from contamination.
On request schülke also offers comprehensive concepts for microbiologically safe cosmetic products and are happy to answer any questions formulators may have. There are a number of factors to consider when choosing a preservative for your formula – different ingredients in the formula, pH value, type of packaging, countries where the product is to be sold, company policy – to name a few. The large number of possible microorganisms, different packaging and storage conditions and the enormous diversity of raw materials used in cosmetics and toiletries impose demands that cannot be met by just one substance used at an acceptable dosage.
Visit schülke at stand 144, they will be available throughout the event for one to one meetings to discuss and improve your hygiene & preservative budget and regime for 2013.

Other News